Snack & Smile
There's nothing quite like the enticing smell of fresh popped popcorn. Combining delicious, natural flavors with one of the most popular snacks on the planet, the founders of Doc Popcorn dreamed of creating a wholesome, smile-inducing snack in a variety of mouth-watering flavors.
In 2003, that dream popped to life when the first Doc Popcorn location opened outside of Boulder, Colorado. More locations followed, inside malls and at other high traffic venues full of hungry snackers. Word spread of Doc Popcorn's remarkable, freshly popped flavor and commitment to natural ingredients and in 2009 Doc Popcorn started its national expansion through franchising.
Doc Popcorn was purchased by Dippin' Dots, LLC, the iconic beaded ice cream company, in 2014. The pairing opened the door for a sweet and salty co-brand franchise, gaining success by featuring both delicious snacks under one roof. International popularity ensued with Doc Popcorn popping up in fresh new locations across Chile and Oman.
The world's largest popcorn franchise, Doc Popcorn is creating smiles by serving up overflowing bags of tasty, fresh-popped goodness at over 100 locations. Today, Doc Popcorn is part of J&J Snack Foods Corp., (NASDAQ: JJSF) a leader and innovator in beverages and snack foods, after the company purchased the Dippin' Dots and Doc Popcorn brands in 2022.
Making you smile is what makes us POP!
At Doc Popcorn, our goal is to make you smile. How we do this is by serving up overflowing bags of tasty, fresh-popped goodness with a smile of our own. From Triple White Cheddar to Hoppin' Jalapeño to Caramel Bliss and beyond, we offer the most unique and yummy popcorn on the planet. We're so sure you'll love our great-tasting variety of fresh-popped flavors we invite you to sample as many as you can fit in your mouth. You can even mix and match flavors for a seemingly infinite number of concoctions. So come try Doc Popcorn today and let the smiles begin!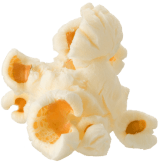 Our Values
Principled
Everything we do is with integrity first. We care about those around us and value their success as we value our own.
Participate
We look to play an active role in the people and communities around us. We give generously of our dollars, time and hearts.
Play
Have fun! It is after all, popcorn.
Pop!
Approach everything we do with a little extra POP! This is what makes us remarkable, like our popcorn.
Our Culture
Provide Smile Experiences
We provide inspired service and understand that everyone at Doc Popcorn impacts our customers, franchise owners, and partners.
Solutions Focused
We find exciting and creative solutions to problems.
Quality
The quality of our service is in direct proportion to our commitment to excellence.
Family and Team
We are each a member of the Doc Popcorn family, working towards a common goal — of crafting and delivering Doc Popcorn in all its POPelicious flavors and forms, creating a smile experience for all we touch.
Accountability
We celebrate our successes and take responsibility for our mistakes,seeking to learn from them.
Pop Smiles Forward
Building on our founders' vision to give back, Doc Popcorn is dedicated to making a difference by serving others. Our employees, POPrietors (franchise partners) and their Popster Staff are actively involved in supporting their local communities and Doc Popcorn's national giveback initiatives.
At Doc Popcorn, we believe everyone deserves a smile in their day. One way we try to make this happen is our Pop-Smiles-Forward program which encourages our POPrietors to give away a fresh-popped bag of Doc Popcorn each week to someone "in need." Whether it's a homeless person on the street corner, troops in Iraq, or a customer who had a tough day, Pop-Smiles-Forward aspires to create a smile for those who need it most.